Porthcawl Museum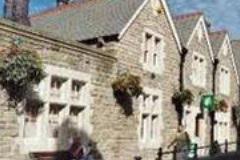 The Porthcawl Museum and Historical Society is a voluntary organisation founded in October 1972. Through the enthusiasm of the founder members and the co-operation of Ogwr Borough Council, premises were eventually provided in a part of the Old Police Station.

The Police Station had been built on ground granted to the County in 1881 by Mrs Mary Caroline Brogden,wife of Mr James Brogden who was instrumental in developing the docks at Porthcawl.

The museum was officially opened in November 1977. Over the years, through donations and loans ,we have amassed in excess of 5,700 items such as costumes,artifacts, militaria, ceramics, photographs, documents and archaeological finds. Apart from the wealth of objects meticulously recorded, some of our members ,also, deliver historical lectures to local organisations.
If you contact the business please mention Welcome To Porthcawl.
Reviews
♦♦♦◊◊ by on 25 January 2017 09:32:06
http://dapoxetine-onlinepriligy.net/ - dapoxetine-onlinepriligy.net.ankor ventolinsalbutamol-buy.org.ankor http://ventolinsalbutamolbuy.org/
♦♦♦◊◊ by on 25 January 2017 09:12:04
http://dapoxetine-onlinepriligy.net/ - dapoxetine-onlinepriligy.net.ankor ventolinsalbutamol-buy.org.ankor http://ventolinsalbutamolbuy.org/
♦♦♦◊◊ by on 24 January 2017 20:25:48
http://dapoxetine-onlinepriligy.net/ - dapoxetine-onlinepriligy.net.ankor ventolinsalbutamol-buy.org.ankor http://ventolinsalbutamolbuy.org/
♦♦♦◊◊ by on 24 January 2017 20:13:24
http://dapoxetine-onlinepriligy.net/ - dapoxetine-onlinepriligy.net.ankor ventolinsalbutamol-buy.org.ankor http://ventolinsalbutamolbuy.org/
♦♦♦◊◊ by on 24 January 2017 20:05:04
http://dapoxetine-onlinepriligy.net/ - dapoxetine-onlinepriligy.net.ankor ventolinsalbutamol-buy.org.ankor http://ventolinsalbutamolbuy.org/
♦♦♦◊◊ by on 24 January 2017 19:58:21
http://dapoxetine-onlinepriligy.net/ - dapoxetine-onlinepriligy.net.ankor ventolinsalbutamol-buy.org.ankor http://ventolinsalbutamolbuy.org/
♦♦♦◊◊ by on 24 January 2017 19:54:40
http://dapoxetine-onlinepriligy.net/ - dapoxetine-onlinepriligy.net.ankor ventolinsalbutamol-buy.org.ankor http://ventolinsalbutamolbuy.org/
♦♦♦◊◊ by on 24 January 2017 19:40:02
http://dapoxetine-onlinepriligy.net/ - dapoxetine-onlinepriligy.net.ankor ventolinsalbutamol-buy.org.ankor http://ventolinsalbutamolbuy.org/
♦♦♦◊◊ by on 24 January 2017 19:39:04
http://dapoxetine-onlinepriligy.net/ - dapoxetine-onlinepriligy.net.ankor ventolinsalbutamol-buy.org.ankor http://ventolinsalbutamolbuy.org/
♦♦♦◊◊ by on 24 January 2017 19:38:12
http://dapoxetine-onlinepriligy.net/ - dapoxetine-onlinepriligy.net.ankor ventolinsalbutamol-buy.org.ankor http://ventolinsalbutamolbuy.org/
♦♦♦◊◊ by on 24 January 2017 19:29:08
http://dapoxetine-onlinepriligy.net/ - dapoxetine-onlinepriligy.net.ankor ventolinsalbutamol-buy.org.ankor http://ventolinsalbutamolbuy.org/
♦♦♦◊◊ by on 24 January 2017 19:19:32
http://dapoxetine-onlinepriligy.net/ - dapoxetine-onlinepriligy.net.ankor ventolinsalbutamol-buy.org.ankor http://ventolinsalbutamolbuy.org/
♦♦♦◊◊ by on 24 January 2017 19:18:26
http://dapoxetine-onlinepriligy.net/ - dapoxetine-onlinepriligy.net.ankor ventolinsalbutamol-buy.org.ankor http://ventolinsalbutamolbuy.org/
♦♦♦◊◊ by on 24 January 2017 19:09:58
http://dapoxetine-onlinepriligy.net/ - dapoxetine-onlinepriligy.net.ankor ventolinsalbutamol-buy.org.ankor http://ventolinsalbutamolbuy.org/