Ambience Interiors Of Distinction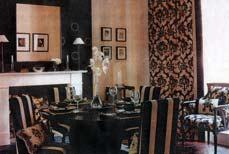 01656 771190 | 07801 582905
11 Well Street
Porthcawl
CF36 3BE | Get Directions
Established in August 2002 the business has prospered attracting clients from all over South Wales.

We focus on good quality products and affordable interior design with help and advice offered on all aspects of design.Please come and visit us at Well Street Porthcawl where you are sure to receive a warm welcome.

Design Consultation Service - Fabrics, Wallcovering & Trimmings -
Professional soft furnishing make up service - Home accessories and gift ware.
If you contact the business please mention Welcome To Porthcawl.
Ambience Interiors Of Distinction
Submit an Entry
Warning!!! Warning!!! Cookies are disabled Warning!!! Warning!!!