Foam Edge Guest House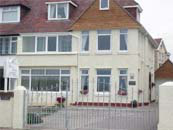 Facilities include:

Open all year round
Single rooms from POA
Double from POA
Twin rooms POA
Situated on the seafront, having panoramic views across the Bristol Chanel. all the rooms are en-suite and are non smoking. Private enclosed car parking. Excellent shops and Restaurants are within walking distance. If you contact the business please mention Welcome To Porthcawl.
Submit an Entry
Warning!!! Warning!!! Cookies are disabled Warning!!! Warning!!!